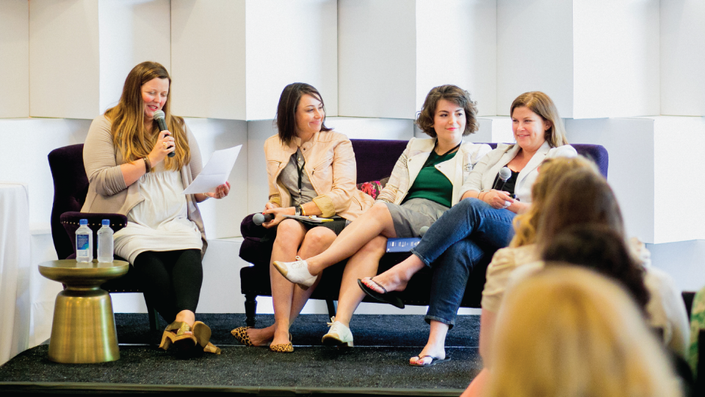 Hiring is Not One Size Fits All
Find the right people, in the right roles, for your YOUR business.
Enroll in Course
You can do it all, but you can't do it all right now by yourself.
I see you, friend. Working around the clock, doing #allthethings to build your business.
Some days you feel like you're killing it.
And, other days you feel like things are spiraling out of control.
You're constantly putting out fires, working through your never-ending to do list and you're so overworked that you have a hard time stepping back to see the big picture.
You just keep plugging away, hoping that things will magically fix themselves. Right?
I've been there.
At one point, I was working an intense corporate job, had two kids under 2 years old at home and was building two businesses that eventually became my full time gig. #insanity #whatwasithinking?
I couldn't see which way was up. And, the idea of hiring help never even occurred to me.
Why?
Because I was in too deep. I was too close to the problem. I didn't have enough white space in my day to breathe, let alone figure out a strategic way to fix my mess.
I also told myself a bunch of lies....
Maybe you've been telling yourself these lies too?
I can't afford to hire someone
The only way to hire someone is full time, with benefits
I need someone that is good at everything
It is going to take longer to train someone to do this. I should just do it myself.
It's time to shift your thinking!
---
Every time I've hired help, my business has grown in ways I never imagined.
My revenue increased, our productivity increased, our programs improved AND I worked less.
I want the same for you.
To help you get started, I've pulled together three of our most popular programs focused on creative hiring, outsourcing and finding the right people for your team.
Within a few hours, you could be on your way to hiring your first team member. And, we're going to show you how.

Enroll now for access to these three courses:




Hiring Is Not One Size Fits All

with Katie Hunt of Proof to Product

Katie Hunt will dispel common fears, reservations and concerns that creative entrepreneurs have around hiring. She explains the difference between employees, independent contractors and services for hiring and the types of projects each one is best suited for. And, because Katie likes to learn through examples, she shares three real life case studies from clients showing how we relieved their pain points with creative hiring, changes to the application and interview process and utilizing part time, virtual help.





Hiring Panel Discussion

with Chelsea Shukov, Ellen Bennett, Katie Hunt and Carina Murray
Bringing in help for your company can be a game changer, and there are several ways to do it. Chelsea Shukov of Sugar Paper, Ellen Bennett of Hedley & Bennett, Carina Murray of Crow & Canary and Katie Hunt will discuss how we utilize different types of employees including full time, part time, independent contractors, virtual assistants and temp support in different roles. We'll discuss interviewing, training, firing and how we knew it was time to bring in more support.




How to Clone Yourself

with Amber McCue of NiceOps

Amber McCue believes in strategic outsourcing; focusing on the things you're really good at and enjoy doing — and getting rid of the rest. In this class, Amber will help you hone in on what tasks you should hang onto and which are wasting your time and energy. She'll teach us how to hone in on our Zone of Genius and systematize our work.
I never thought I'd hire someone, due to the intimidation of taxes, paychecks, and the responsibility for having employees. But through these classes, I learned that hiring someone full time isn't my only option; there are lots of ways to bring people onto your team with flexible arrangements and without spending a ton of money. I'm feel confident bringing on my first hire now!
- Marie Chang, Marie Chang Designs
Who are these classes for?
---
New & experienced business owners who are doing everything themselves and having trouble keeping up.
Business owners who have a team but aren't utilizing them to their full potential
Anyone who thinks hiring is out of reach, out of budget or never going to happen.
Entrepreneurs who are juggling a day job and a business
CEOs that are scaling, starting to feel overwhelmed and want to bring on help before they get to the point of paralysis.
Business owners who can't remember the last time they took a vacation.
Class Curriculum
Hiring is Not One Size Fits all with Katie Hunt
Available in days
days after you enroll
Hiring Panel | Chelsea Shukov, Katie Hunt and Ellen Bennett
Available in days
days after you enroll
How to Clone Yourself with Amber McCue
Available in days
days after you enroll
Frequently Asked Questions
When does this course start?
Immediately! Once you enroll, you'll receive instant access to all course materials.
How long do I have access to the course?
Forever! After enrolling, you have unlimited access to this course for as long as you like - across any and all devices you own.
What is the format of this course?
This is an independent study course featuring video recordings and downloadable handouts.
What are your Terms of Service?
By purchasing this course, you agree to Tradeshow Bootcamp, LLC's terms and conditions which are detailed in full at http://tradeshowcamp.com/terms. In short, you agree to not distribute this course in part or in its entirety. This includes but is not limited to distributing information through blog posts, e-books, courses, worksheets or coaching sessions. Courses are sold individually (to one person) and are not transferrable. Sharing course login, recordings or worksheets are prohibited and your access to courses will be immediately revoked. Due to the digital nature of this product, no refunds are available.